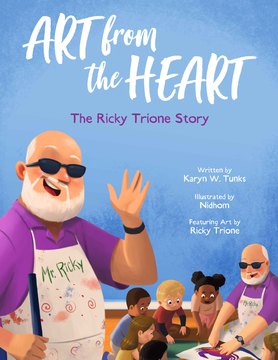 Art from the Heart: The Ricky Trione Story by Karyn W. Tunks
Regular price $15.00 Sale
Art from the Heart: The Ricky Trione Story is written by Karyn Tunks, illustrated by Nidhom, and featuring art by Ricky Trione, is a picture book biography about a blind artist who uses his talents to share his love of creating art with others.

From a young age, Ricky loved to create art. He sketched detailed scenes of his life growing up near the bay. When a terrible accident left Ricky blind, he gave up all hope of creating art again. Encouraged by family and friends, Ricky worked to overcome obstacles and discovered new ways to make art. What happened next was something he never expected!
Intended for children from 3-8 years old. Grade level is pre-K to third grade.